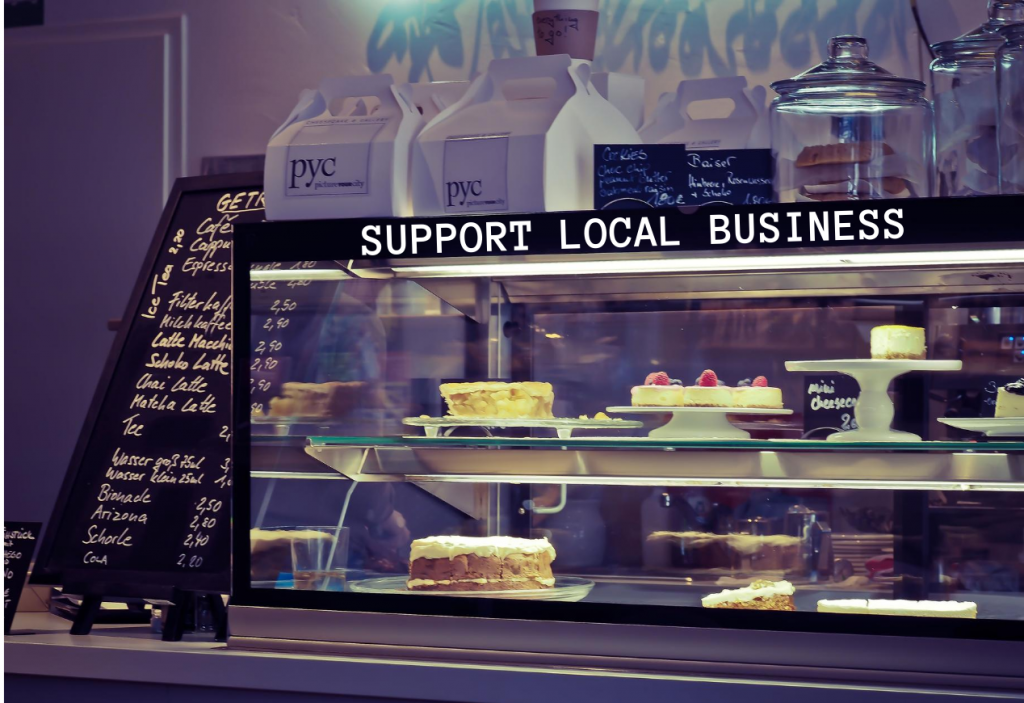 If you want your nearby customers to find you on search results, it is very important to adopt a local SEO strategy.
What is local SEO?
Local Search Engine Optimization or Local SEO is the process of 'optimizing' your business's online presence to attract more visitors when a user makes a local search query.
In most cases, people making a local search query are looking for a quick and immediate solution. Getting your business in front of the people while they are searching for your product/services is an effective way to increase your leads and conversions.
So, how does a local search results page differ from the normal search results on Google?
Local Search Engine Results Page
While making a Google search with local intent, you might have noticed a block of businesses that appear right below the map in the search results page. This is known as Business Listing (also known as "local pack", "3pack" etc.)
Business listing is a feature that is unique to the local search results page. Local SERPs is different from standard organic results as it gives maximum information about your business in the search results page itself.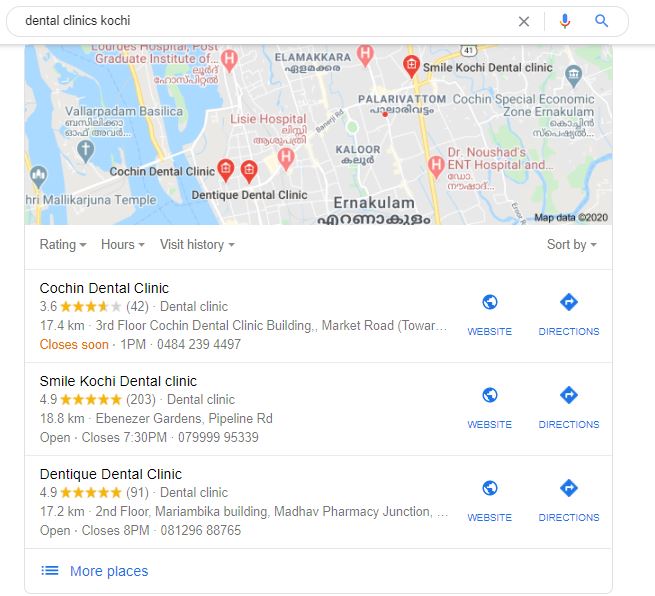 Everything displayed in the local pack generally comes from your business GMB ( Google My Business) profile. Google My Business has a crucial role in your local SEO Checklist. Getting your company verified and listed via GMB is very important while doing local SEO, as it helps Google satisfy the searchers directly on the results page.
Google My Business Listing
Google My Business previously known as Google Local, Google+ Local, etc. is basically your business profile on Google.
The first step to listing your Business in Google is to get your business account verified in GMB. Google My Business asks for basic details about your business like business name, category, address, phone number. You can even add details about your working hours, attributes, etc. After entering the basic details you can ask for verification, which generally happens through postcard mail. A 5 digit code is sent to your address, which you want to enter in your GMB dashboard in the right place to get verified.
GMB account also gives you the opportunity to create your own business site and once you get verified you can create Google posts to become more attractive in the local listing.
NAP Citations
Citations are online mentions of your business, which usually display your business name, address, and phone number collectively known as NAP citations. There are two types of citations: structured citations and unstructured citations. Structured citations appear in a visually structured manner mostly in GMB profiles, social profiles, etc. Unstructured citations usually reside on blog posts, business blogs, newspaper websites, etc in an unstructured format.
Importance of NAP Citations
Citations are one of the top local ranking factors according to Moz reports. Consistent information across the web helps to verify the data Google has on GMB.
Having NAP citations listed on the web increases the possibility of potential customers finds your business.
On-Page Optimization techniques
It is important to perform "traditional" on-page SEO practices like URL, meta tag optimization, keeping short and relevant URLs, etc.
But there are a few other things to keep when trying to rank locally, like displaying NAP information, adding relevant schema markup.
Let's look more into these techniques.
Set up your website structure to rank local landing pages: Create unique local landing pages if you want to rank in multiple locations. eg: yourbusiness.com/area-1, yourbusiness.com/area-2, etc
Stick to making landing pages for relevant nearby locations. But, make sure not to create multiple landing pages for the same locations, with variation in the terms.
Optimize each local landing pages( if you serve in multiple locations)
Add schema markup to the local landing pages and create schema markup for each local landing pages if you have multiple physical locations.
Always ensure that the details about your business for each location across the web are consistent.
Importance of Backlinks in Local SEO
Backlinks tell the search engine that your site is reputable and trustworthy. Also, when the search engine notices that you are recommended by other sites, you are providing right and valuable information or service.
We will now discuss the ways of achieving backlinks to your website.
GMB Listing
When you create a profile an account in GMB and get listed in Google, you are getting a backlink to your website from "Google" which has the maximum domain authority of 100. Hence, it is an effective way to get backlinks.
Local Press Releases
Gaining backlinks from local online news publications is a great way to build backlinks. Write a press release about your local news or new product launching. Include a link to your local landing page and send it to the editors. You are getting a link from a locally optimized medium with a wide and established audience.
Create, Promote local resources
Local resource backlinks can be achieved by sharing information that would be valuable to local searches. You can create a social platform to share information that would be genuinely useful to people and are likely to attract links. In the end, add an internal link to your local landing page.
You can even ask bloggers or social media influencers to share details about your business and a backlink to your website by giving special offers to their audience.
Guest Blogging
Guest blogging is yet another way to build links to your site. The most important thing you should keep in mind is to think about quality than quantity while doing link building practices.
For a local business, you can go with local blogs and publications, or Industry-specific blogs. Find local blogs by searching "your location" + "write for us/ write to us".

Keep an eye on your competitors
Try to get insights about the backlinks of your competitor websites. You can use link intersect tool of ahrefs, to get details about the websites that link to your competitor websites.
These sites are a good list of sites that you can target to achieve backlinks from.
Getting through the long run
Like all the online marketing strategies, it is very important to continuously review your progress reports to know if your strategies are working or not.
Once you analyze from the reports that you are succeeding in your efforts, you must still keep on working and improving to keep up with the success.
Regularity
You need to be active and consistent with your activities in all the platforms you are using. In the case of blogging, it is important to publish new content regularly. Regular and updated activity tells Google that your site is actively maintained. For a small business, you can consider doing this say, once every month.
Reviews and Ratings
Respond to customer/client reviews and respond to reviews in a timely fashion.
Look out for incorrect edits in your GMB profile. Anyone can edit your data in your GMB profile, as Google gives the chance to suggest edit in the data you have entered. So, check once every couple of weeks to make sure everything is accurate.
Conclusion
Let's have a quick recap about the ranking signals of local SEO that we just discussed. To get the maximum results from your local SEO practices make sure to
have a verified Google My Business account
Perform ON-page SEO techniques
create optimized local landing pages
have consistency in NAP listings across the web,
Implement schema markup,
generate genuine reviews from customers,
focus on localized link building